You can use our follow-up templates "right out of the box." However, we highly suggest you add personalization to your campaign follow-ups.
If you're not convinced it's worth the effort, remember that emails with personalized subject lines generate 50% higher open rates than emails without personalization. So, at the very least, personalize your subject lines. The more personalization you can add, the higher your response rates will be.
If your incoming contacts have information like "first name" or "property," you can take advantage of merge fields in the email and text editors to add personalization.
If your contacts don't have personal information, you can always use words like "you" and "your."
You can achieve a 22% increase in open rates just by personalizing emails with words like "you" and "your." If you can use the contact's first name, you can achieve around a 24.2% increase in open rates.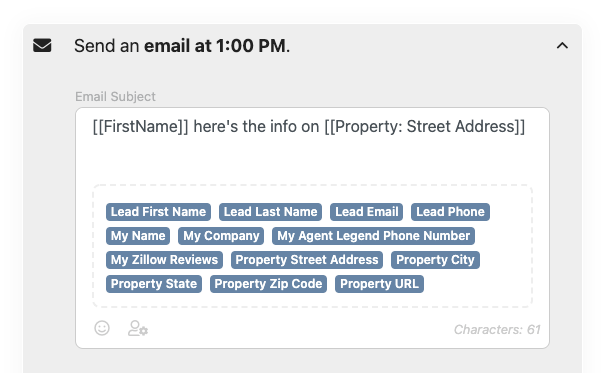 Email and Text Suggestions
Text and Email follow-ups can be written to reflect your personal style as a real estate professional as well. We have templates you can use to help you get started, and they can be adjusted in any way you would like. You can also include emojis in your text messages to add something unique, as well as images in your email follow-ups. Don't forget to include links to your personal website and/or social media accounts as well.
Here are a few examples of adding personalization with the use of merge tags.
[[FirstName]], your inquiry about [[Property: Street Address]]
Real estate question [[FirstName]]
[[FirstName]] I'm here when you're ready
Checking in regarding [[Property: Street Address]]
[[FirstName]], am I sending you the wrong homes?
Property inquiry for [[Property: Street Address]]
[[FirstName, let's talk about your property search
[[FirstName]], here are your neighborhood values
[Zillow]: [[Property: Street Address]]
Voicemail Suggestions
Voicemail follow-up messages can be adjusted to fit your personal style. We have templates to help you get started before you record your message. We recommend keeping it natural and authentic just like you are actually talking to the contact.