You'll be able to close more deals and save time when you pair Agent Legend with a BoomTown integration. BoomTown is a top lead generation and CRM platform. When it is integrated with Agent Legend, you can see all of your conversation data instantly and in real time. It's great for Brokers and Team Leaders too, allowing you to see your agent's follow-up and lead generation activity.
BoomTown Integration Uses and Benefits
Import new leads automatically from BoomTown into Agent Legend
Agent Legend instantly updates BoomTown contact notes every time there is a communication with a lead
Automatically stop your BoomTown drips if a prospect responds through Agent Legend to easily avoid duplicate responses
Stop your Agent Legend campaigns when a contact responds in BoomTown
When you get a phone call or message from a lead, you can instantly see what campaigns the lead is subscribed to, any relevant personal information (i.e. property address), and how long you've been reaching out to them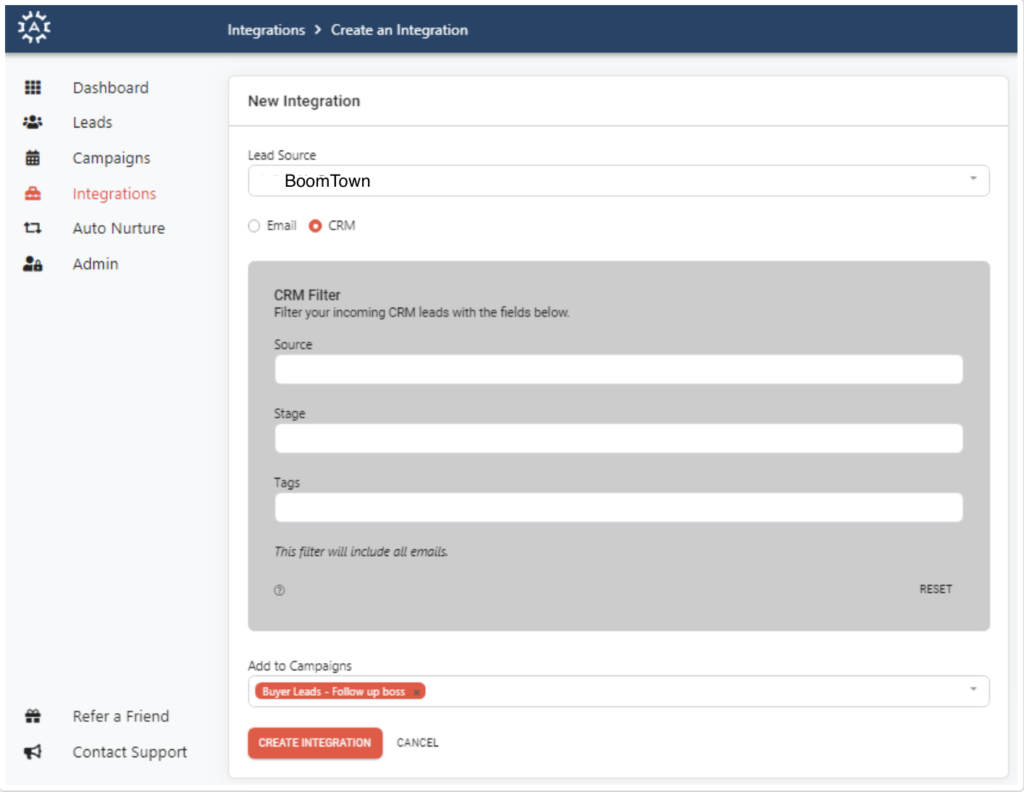 How to Integrate BoomTown
*BoomTown integration with Agent Legend is available to BoomTown Core, Grow, and Advance clients. It is not currently available to Lenders in BoomTown.
Select your profile icon in your Agent Legend account, then click on Integration Settings.
Scroll down on the page to the section titled Connect my BoomTown Account
When prompted, log into your BoomTown account. This should then take you to an authorization page. Authorize Agent Legend to communicate with your BoomTown account here.
Create a new integration inside your Agent Legend account. Click on the Integrations tab located towards the top on the left-hand side of the screen.
Click on the red New Integration button at the top right of the screen.
Select BoomTown underneath the Lead Source section.
Select CRM directly below that.
Fill out the CRM Filter box based on your personal preferences. Just be sure that this criteria matches leads at the time they are created–not after.
In the same box, select the campaign you want those leads to be directed to.
Click the red Create Integration button. You're done!
Your next BoomTown lead will go directly into an Agent Legend campaign.
Extra Support
You can view and manage all of your existing integrations in the integrations tab located on the left side of the screen.