Firepoint is a high-level CRM built for growing teams. A Firepoint integration with Agent Legend allows you to track, scale, and nurture your lead follow-up process more effectively. It's an excellent way to manage large lead numbers, especially for a real estate team.
Firepoint Integration Uses and Benefits
Firepoint leads pass automatically into your Agent Legend account
Any interactions with all leads are automatically recorded into your Firepoint system
If a lead is contacted, they are sent to you as a qualified lead and the status is marked as "Nurture"
After a period of time, if a lead is unreachable, it will be marked as a cold lead in Firepoint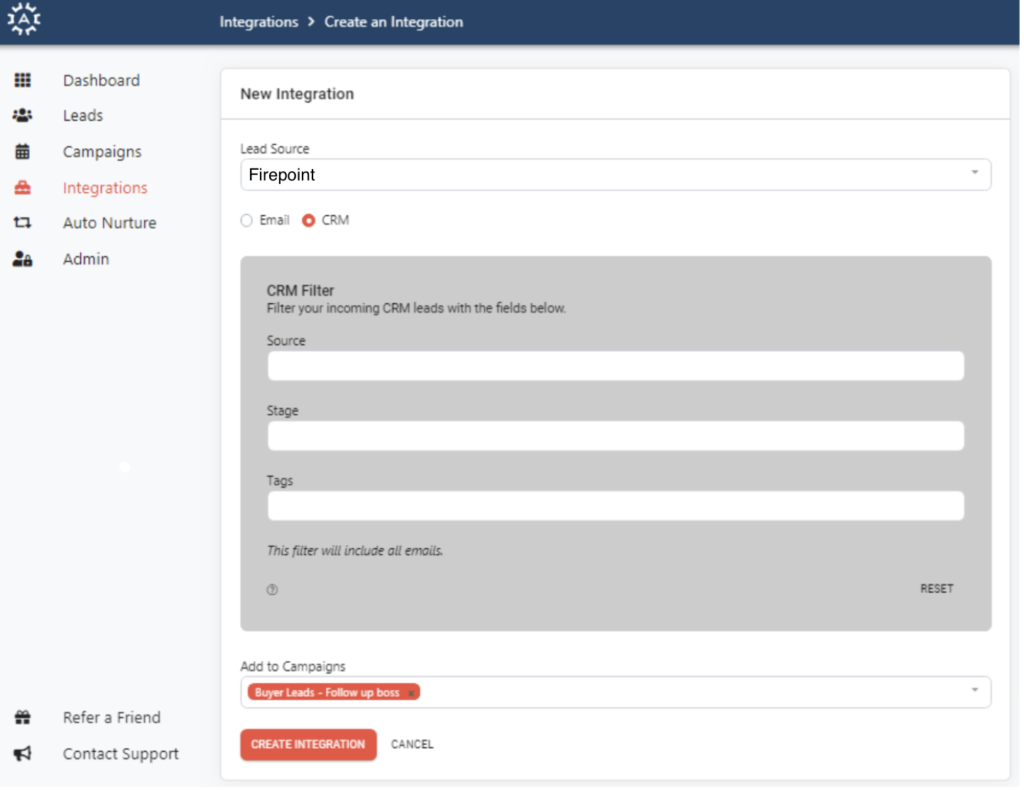 How to Integrate Firepoint
Select your profile icon in your Agent Legend account, then click on Integration Settings.
Scroll down on the page to the section titled Firepoint.
Enter your Fireopint *Public Email* address and then click on the Update Firepoint Settings button.
Reach out to your Firepoint account representative to have the Agent Legend integration enabled within your Firepoint account.
Create a new integration inside your Agent Legend account. Click on the Integrations tab located towards the top on the left-hand side of the screen.
Click on the orange New Integration button at the top right of the screen.
Select Firepoint underneath the Lead Source section.
Select CRM directly below that.
Fill out the CRM Filter box based on your personal preferences. Just be sure that this criteria matches leads at the time they are created–not after.
In the same box, select the campaign you want those leads to be directed to.
Click the orange Create Integration button. You're done! Your next Firepoint lead will go directly into an Agent Legend campaign.
Extra Support
You can view and manage all of your existing integrations in the integrations tab located on the left side of the screen.
Contact Agent Legend customer support support@agentlegend.com for further direction.