Contacts may be received at any hour of the day or night, but it probably doesn't make sense to send an automated followup at 2:00 AM, because if the contact responds, you want to be available. In the event that a contact does come in during your off hours, Agent Legend will wait until the next morning to send your followups.
This setting allows you to customize the times Agent Legend will send followups. You can adjust the time zone you're working in, edit the hours you're available, and turn on or/off weekend followups. We recommend having this set for times that you're available. If Agent Legend is calling and texting contacts until 9pm, make sure that's a time you might be available to pick up the phone when the contact responds back, otherwise the followups can appear more automated.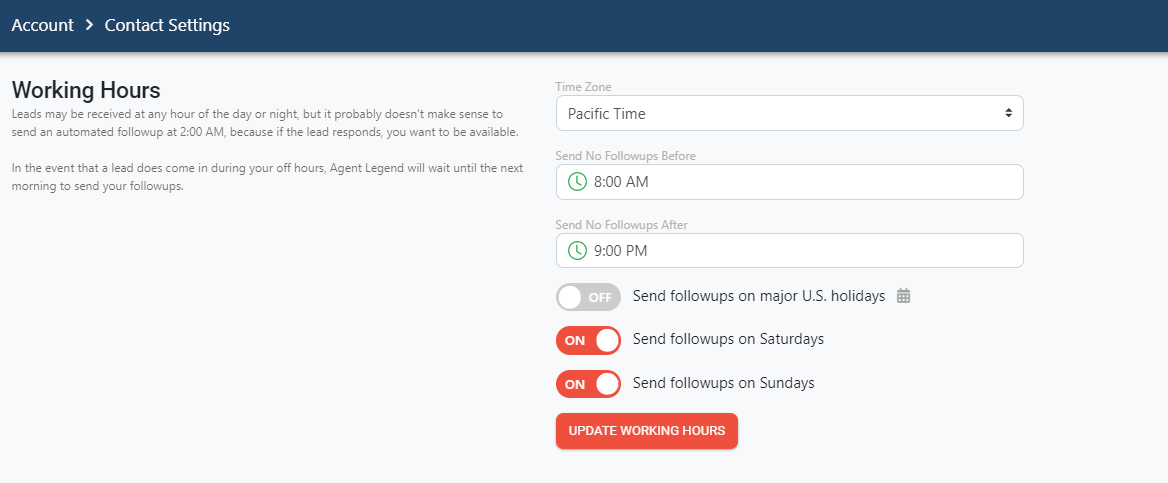 When a contact comes in outside of your working hours, Agent Legend will start the contact's followups the next available day at the start of your working hours. If weekend followups are turned OFF and a contact comes in Sunday at 10am, for example, the campaign will start at 10am on Monday.
By default, Agent Legend will postpone all followups that fall on major U.S. holidays to the next available working day. You can view the list of holidays by hovering over the calendar icon. Be sure to have messages after Day 1 scheduled for times within your Working Hours, otherwise the message will fail to deliver. All of the campaign messages and timestamps shown within your account will follow the Time Zone you have selected.