Tags are an easy way to group contacts. Once you add tags to a contact you can then use the tag as a search filter and an easy way to group contacts to add to campaigns.
Also, most CRMs that utilize tags (like Follow Up Boss) will show here. That way you can keep tags in sync across all the tools you use to manage contacts.
Creating tags is a very easy task. Simply locate the "Add tag" link at the bottom of the Tags card on the contact detail page. Click this link and you'll be taken to a simple form. Here you will enter the tag you want to create. You can also select one of the standard tags that come with your Agent Legend account as they are the most frequently used.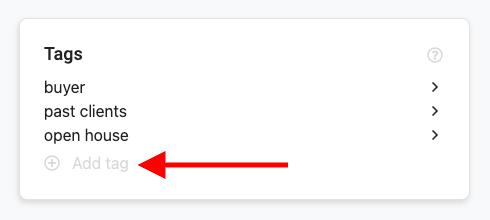 Updating tags is also very easy. To update or delete a tag, click on the arrow icon to the right of the tag you want to manage. Once you click this icon, you'll see a sidebar form appear where you can update the tag or remove it.