Zillow Group Mortgages provides brokers with quality contacts who are ready to borrow in your local market. These contacts are sourced from the millions of users on the internet's top real estate network. A Zillow Group Mortgages integration with Agent Legend allows you to follow-up with all of those contacts authentically, while saving time.
Zillow Group Mortgages Uses and Benefits
You can easily import new lending contacts with a Zillow Group Mortgages integration directly into your Agent Legend account
Contact new contacts automatically with a customized message
Regularly follow-up with your Zillow contacts using automated Agent Legend campaigns
Generate quality contacts who are ready to borrow and manage all of your communications through Agent Legend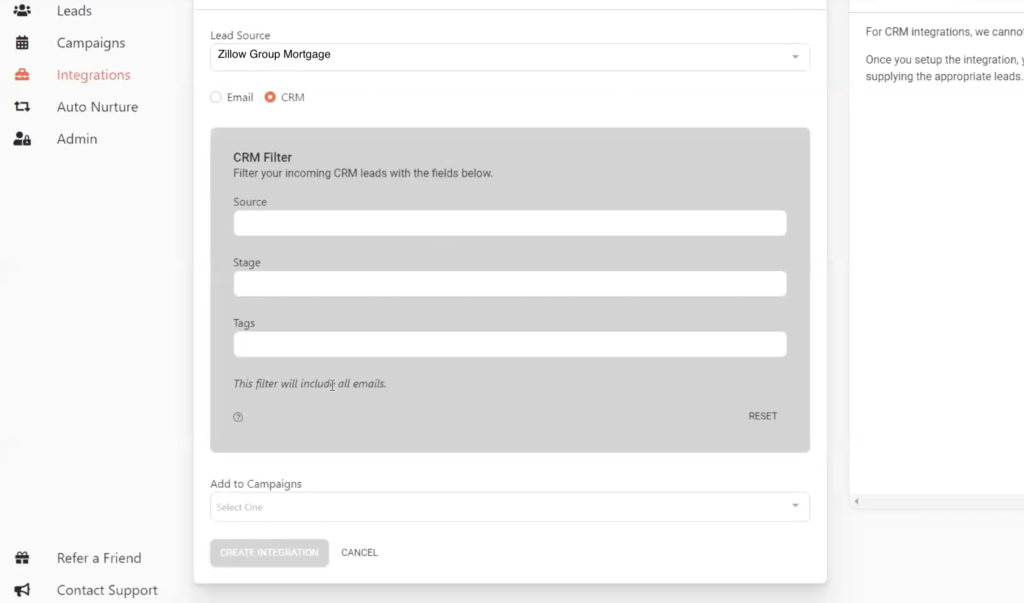 How to Integrate Zillow Group Mortgages
**CRM integrations are not available with Lite.
***Zillow Group Mortgages allows for one CRM connection. Check with Zillow to ensure that other CRM connections you might have are not disabled when turning on the integration.
Go to Integration Settings
Scroll down to the Zillow section and add in your NMLS ID number.
Click on the Integrations tab. This is located towards the top of the page on the left-hand side of the screen
Click the button for New Integration at the top right of the screen.
Select Zillow Group Mortgages underneath the Lead Source section.
Select CRM directly below that and fill out the rest of the box as needed.
Select the campaign you want those contacts to be directed to.
Click Create Integration.
Reach out to lendersupport@zillow.com to have the following Agent Legend Posting URL added to your account (https://hooks.agentlegend.com/endpoints/zillow/group-mortgages/lender-contact-notification).
You may also ask Zillow to send a test contact once they have turned the integration on to be sure everything is working. You're done!
Extra Support
You can view and manage all of your existing integrations in the integrations tab located on the left side of the screen.
This video walks you through the email integration process.